Tips - Whitetails
By Russell Tinsley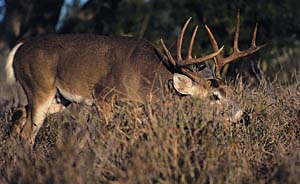 Bigger, but still challenging bucks await '97-'98 deer hunters
Long term, prognosis for the Texas deer herd looks bright. However, hunting this season might be tough.
Entries in the Texas Big Game Awards back-slided from 1,444 in the 1995-96 season to 1,021 last season.
Despite last year's downer, this season isn't expected to be a repeat. Deer benefited from the bountiful rains and the lush habitat, especially in the spring. With a full antler-growing season, look for more quality bucks to be taken.
One plus on a short-term basis is that with fewer deer there is less competition for food. As a result, deer will be larger than average for body weight and general physical condition.
Prospects can vary greatly—not only from region to region, but indeed from one ranch to the next.
Hunting will be tougher than usual, calling for patience, discipline and imagination. You might have to alter your hunting routine if watching a feeder isn't paying off.