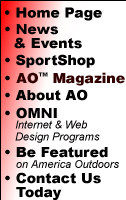 Business Web Site - A business web site you can be proud of.
We design your World Wide Web business site for hosting at any domain location. You receive up to eight hyper-linked graphic designed pages, numerous color photos, your logo, and state of the art web design technology. We register your site in more than 350 top search engines, and we can have you on-line with your new site within 2 weeks.
Corporate Web Site - We design your corporate web headquarters making you a cyberspace leader.
We build your 8-500 page corporate web site with full graphics that features all company and product or service information. We build your site for your domain location. We provide full service Internet and Web consultation, and offer numerous sales and marketing support programs.
Business Listing On America Outdoors - Resorts, Game Preserves, Guides, Retailers, Attractions
Receive a full one or two page listing on America Outdoors, including several photos, up to 500 words of copy, your logo, and an e-mail or phone response mechanism. Price includes registration in top 50 search engines.
Site Modernization - We modernize and update your aging site.
Web technology changes daily. Take advantage of our Microsoft Site Developer expertise. We'll modernize your current web site with animated graphics, audio, banner ads, scrolling script, customer or dealer services. We can increase your download speed, register you in more than 350 top search engine directories, and develop the needed codes to get your site featured quickly and efficiently in today's search engines.
Become A Cyberspace Leader - We keep you in the forefront of today's changing technology.
Let our expertise help you become a cyberspace leader. We develop broad-based Internet and Web sales, marketing and promotional programs for today's cyberspace viewers.