---
We add new information
to America Outdoors
each week.

---



Information Services for Outdoor Recreation Enthusiasts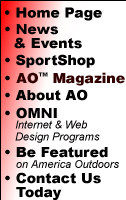 America Outdoors is registered in over 500 search directories.

Marketing by America Outdoors Partners magnifies your reach as they feature America Outdoors in ads, catalogs, and promotional materials.

We advertise in numerous outlets, including The Outdoorsmen magazine and TV show; Black's Wing & Clay; receive massive editorial coverage in outdoor press associations, key outdoor magazines, newspapers, and TV nationwide.

Both America Outdoors and our Partners promote America Outdoors at more than 15 trade and outdoor shows and events each year.

More than 300 outdoor sites currently link to America Outdoors and this number grows each month.

Contact us today
for information and current prices
on a custom Web program for your company.



---
Site design by


Copyright © 1996-2007 Outdoor Management Network Inc.
America Outdoors® is a registered trademark
of Outdoor Management Network Inc.