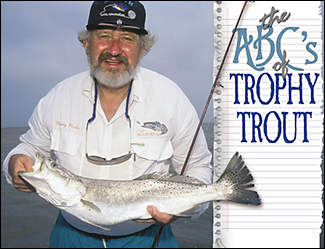 Wallhanger specks - from Baffin Bay or anywhere else -
follow a basic set of behaviors.
Learn their ways, and your trophy room wall
will never be the same.

By Larry D. Hodge
Guide Capt. Terry Panknin's business card reads: "Specializing in Having Fun and Catching Fish." His philosophy and mine agree. It's not the size of the fish in the fun that counts, it's the size of the fun in the fish. But we both also like the feel of a 28-inch trout on the line, and that's exactly what I got to experience last October when Russell Tinsley and I went fishing with Panknin. Size doesn't matter to me when I'm just fishing, but when I'm catching - that's a whole other matter.
Any time you bring a fish to the boat that's several inches longer than your arm, the memory stays with you - warm and fresh - for a long, long time.
Of course, you'd like to repeat the pleasantness every chance you get, so I asked Panknin to share some tips on fishing for trophy trout. He obliged, but with this caveat: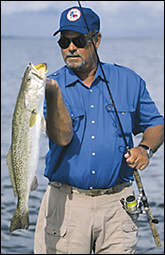 According to guide Capt. Terry Panknin, shown here with a 28-inch trout one of his clients caught in the Upper Laguna Madre, the best way to hook into a trophy trout is to hire a guide and do what he tells you to do.
"People often tell me they want to go to Baffin Bay to catch a 10-pound trout. So do I! I ask people, 'Do you hunt? How many Boone and Crockett bucks have you killed?'
"Big trout are scarce," he added, "but fortunately, they are more common than monster bucks and you don't have to pay to get behind a high fence to have a chance at one. Just head for the mid-Texas Coast from Corpus Christi south to the areas known as the Upper Laguna Madre and Baffin Bay.
"Decide what you want to go for," Panknin advised. "If you go for trophy trout, you may get one or two strikes a day, and you might get a hook in one. If you want to catch a lot of fish, use croaker or live shrimp, fish the flats or rocks in Baffin Bay and catch school trout."
However, Panknin continued, fishing for numbers of smaller fish can also pay off with a trophy trout. "A croaker feeds on trout eggs, and is the only natural enemy a trout has. If you are in an area where there are trout, no matter what size, the fish will hit a croaker," Panknin said. "You have a good chance of catching a trophy if one is mixed in with those smaller fish.
"Fishing with croaker can get a feeding frenzy started. It's nothing to catch 30 or 40 trout in a couple of hours under those conditions, and there's always the possibility of a big one being in the group. Last April," he recalled, "we were sitting on a rock in Baffin Bay, catching lots of 16- to 18-inch trout, and out of the middle of them came a 31-inch 11-pounder."
Panknin is well qualified to lead a search for big trout. He's fished the Upper Laguna Madre and Baffin Bay down to the Land Cut for 25 years. He operates out of Land and Sea Marina (512-939-9296) on the west side of the JFK Causeway Bridge south of Corpus Christi. From there it's a short run to the area where last October he put Tinsley and me on to several 26- to 28-inch redfish and one memorable speckled trout.
When Lady Luck smiled on me, I thought I'd hooked another good red. We'd been drift fishing potholes around Bird Island - hanging hard-fighting reds - for a couple of hours, when Panknin suggested we run a few miles farther south down the Intracoastal Canal to a spot that sometimes holds fish. Pulling into the flats between the canal and the spoil islands that line it, he baited us up with live shrimp under Alameda rattling corks dangled from 14-pound monofilament spooled on Quantum reels and fed through the guides of 7-foot medium-action rods.