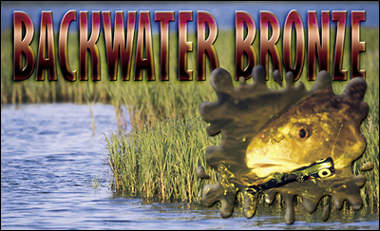 When fall redfish take to the marsh,
it's time to take 'em on top.
By Chester Moore, Jr.
I wasn't sure if I was witnessing a train crash or a fish slamming the Rattlin' Chug Bug I was dancing across the marshy cut. A betting man would go with the fish, but after a couple dozen yards of line peeled away from my reel I might've well gone with the freight train theory.
At least it felt like one.
Actually, it was a redfish -- a 27-1/2 inch redfish, to be exact, and it was pushing my tackle and trolling motor to the limit.
Every time I gained some ground on the fish it would take off through the shallows again and make lots of commotion. Redfish are notoriously spooky fish, and it could've been that this fish was making enough noise to scare every red on the Texas coast for a reason. Maybe it realized I had the tools to put more of its kind where this one was heading (into the ice chest) and was warning them to stay away because they simply couldn't resist what I had to offer.
What I had to offer, in fact, was a box full of topwater plugs. And on that day, at least 10 big reds could not resist them. Three went home to fry and seven went back to fight another day.
Not a bad day of fishing, to say the least.
Topwaters aren't usually the bait of choice for redfishermen. Live bait is a perennial favorite, and gold spoons are a proven commodity. Lipless crankbaits and soft plastics have also proven their worth in recent years, but during the fall when redfish are thick in coastal marshes topwaters can be just as effective as those baits.
And, a whole lot more fun to fish with.
I'll go ahead and say it now: I'd rather catch one redfish on a topwater plug than a dozen speckled trout. It's not because I like redfish more than trout. It's just that reds show so much enthusiasm hitting topwaters.
Big trout slurp up a bait, and schoolies slap at it. Reds slam a plug for all it's worth. They strike with attitude.
To be honest, I haven't been into catching reds on topwaters for very long. A few years ago my mentor, veteran East Texas outdoor writer Ed Holder, introduced me to the art of catching reds on topwaters.
I haven't been the same since.
Our trip was to the Keith Lake chain, a large system of shallow lakes surrounded by thousands of acres of coastal marsh bordering the town of Sabine Pass. I still remember that day like it was yesterday.
When I showed up at Holder's house he had the boat trailered and ready to go. The first thing I noticed about his equipment was the snow-white Producer's Ghost he had tied onto his line.
"Where did you get that bait?" I asked. "I've never seen one that white."
"Oh, the bait's not white," Holder responded. "It's actually multi-colored. The white you see is battle scars from being hit by reds. I'm going to fish this bait until it can't go any more."
Battle scars, indeed. The battered plug had obviously landed many, many redfish, and I immediately suspected it would do more of the same that day.