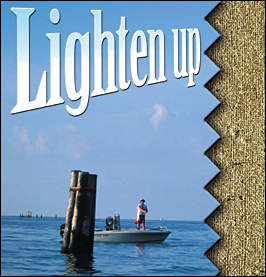 For the ultimate in light-tackle saltwater fishing, look no further than the fish-filled bays of Cocodrie, Louisiana.

By Larry Bozka
Don Upton fired the Cocahoe Minnow tandem rig a few feet past the bright yellow production platform, let the soft plastic avocado-colored baits sink to the bottom, began a slow drag and set the hook. Make that hooks. Two trout were hung fast to the shadtails, and for the fifth time in a row.
This is unreal," Upton told Capt. Terry Adams.
"No it's not," Adams replied. "It'll be like this all summer long."
Were it not for the fact that I'd been here before - two years and three weeks before, to be exact - I probably would have written off the veteran Bayou State fishing guide's comments as wishful thinking. But I had been here, and the results - just like today - were no less impressive. The gas wells of Pelto and Terrebone Bays, I now firmly believe, are arguably the hottest speckled trout waters an inveterate saltwater fisherman can hope to find anywhere west of the Mississippi.
This is not "big trout" country by the standards of Texas anglers who have grown accustomed to the heavyweight specks of Baffin Bay, East Galveston Bay, Trinity Bay, East Matagorda Bay and a host of other Lone Star hotspots. Without question, the closure of gill netting back in March of '97 has done much to up the average size of Cocodrie trout. Capt. Tom Holliday, owner of Cocodrie Charters, says that several specks in excess of 7 pounds have been taken this year. But all the same, this is still not a place for fishermen intent on catching the trout of a lifetime.
It is, however, perhaps the best spot anywhere to catch huge numbers of keeper-class specks. Which is why Holliday, Adams and crew head out every day with lightweight spinning tackle. As a light tackle Mecca, Cocodrie ranks an A-plus.
With that in mind, our crew of 10 spent a lot of time assembling an arsenal of downsized open-faced spinning rigs prior to our trip over the Memorial Day Weekend. And as a result of our efforts, we enjoyed challenging duels with 15-inch-class trout that would have been far less daunting on conventional baitcasters.
Upton, an accountant and close friend from my hometown of Seabrook, quickly realized the value of the thin cotton Columbia Sportswear shirt I'd encouraged him to wear. The early-summer sun was blasting like a nuclear furnace, and at only 9 a.m. we were already bathed in sweat. The only thing hotter was the fishing. Upton, a die-hard wingshooter but self-admitted angling novice, was getting his education in a hurry.
His 7-foot Fenwick Techna AV spinning rod, fitted with an Abu-Garcia T100F spinning reel, bowed deeply as Upton hoisted the near-identical pair of 16-inch specks over the starboard gunnel. Two more keepers hit the ice chest. One cast later, the process was repeated. And so it was for the next half-hour, when we all agreed it was time to hit the mirror-flat surf outside of Raccoon Point in an effort to dupe some bigger trout with mullet-imitating topwaters.
Had we wanted to, Upton, Holliday, Adams and I could have stayed there and wrapped up our 25-fish limits (12-inch minimum) in less than an hour. But the nonexistent wind coupled with trout-clear waters was too much to resist.
Adams gunned the 200-hp Mercury, and around 20 minutes later the Blue Wave Classic was rolling gently with the barely-breaking light swells of the surf. Several fishermen were wade fishing off the first bar, throwing into the remarkably deep gut that steeply falls just 100 feet or so from the sand. I broke out a MirrOlure Top Dog Jr. while Upton tied on a Yo-Zuri Crystal Minnow and we both went to work. The tidal flow had faltered to zero, but pods of finger mullet were roiling the oily, slick surface in every direction. We had to "grind" a bit, but I ended up with a nice 3-pound-plus trout for my efforts. Upton missed an even bigger one, a foul hit that he is still upset about. Two weeks earlier, Cocodrie chef and fishing guide Capt. Tom Turner had from this exact same spot caught 20-inch-caliber topwater trout on virtually every cast. But even here, in waters so full of fish that it baffles the senses, conditions can be "off" at times.
Remember, though; Cocodrie in the "off" mode is still comparable to "hot" speckled trout fishing in the typical Texas school fish scenario. We moved just inside the point, Adams stopped us just short of a thick oyster bed in 3 feet of water and after another 2 hours of steady action, we left them biting.