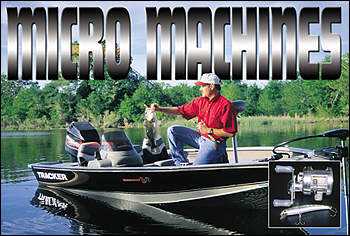 Micro Baitcasting Reels: The Little Engines
That Can Produce Big Results
By Paul A. Cañada
If you fish often enough, you're sure to experience some humiliating angling moments. I still blush over a moment I experienced many years ago. The regretful incident took place on Ray Roberts Reservoir while I was enjoying a day on the lake with my fishing partner Kerry.
Admittedly, our morning catch was modest. Still, I was pumped about catching a number of bass on my brand-new Browning rod and reel. The outfit was a birthday gift from a hesitant wife, unsure about spending a couple of hundred bucks for a "fishing pole."
After a morning of flippin' and pitchin' to timber, Kerry insisted we take our customary lunch break. My partner tied the boat up to a tree line and proceeded to devour his turkey sandwich and a bag of chips. I on the other hand, being very suspicious of dry bread and warm mayo, picked up my prized rod and reel and attempted a cast.
The vintage tri-hull rested against a large pecan tree, making it impossible to make a strong roll cast. Over compensating for the lack of clearance, I lost my grip on the brand-new outfit and sent it into 28 feet of water.
Initially I wanted to dive into the timber-filled water. Fortunately, my momentary lapse of reason passed and I remained in the boat. Still clutching handfuls of hair, I wondered what I would tell my wife.
Kerry tried to suppress the laughter erupting in his gut but failed miserably. Reflecting back on my loss I now realize my misfortune wasn't due to a lax grip, but rather a relatively small hand. This theory was confirmed a year ago when I threw a former friend's rod and reel overboard.
Small reels for small hands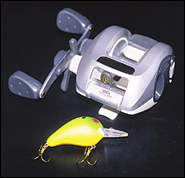 A year ago I discovered a solution to my physical shortcomings - the micro baitcast reel. The miniature reels look and perform like their bigger brothers, but are designed for light line applications. Recently, while interviewing Arkansas pro Ron Shuffield, I discovered that small baitcast reels are becoming popular with many of the pros.
Shuffield confirmed that an oversized reel can indeed hinder casting performance. The renowned B.A.S.S. angler explains, "I know that I like to palm my reels. I believe you have better feel and control of your outfit when you can palm the reel. These smaller-sized reels allow anglers with small hands to actually palm the reel."
Outside of former lightweight wrestlers and jockeys, the micro baitcaster's size ideally suits the smaller hands of women anglers. Also, the smaller reels are ideal for teaching youngsters how to use a baitcast reel. The reels' smaller profile makes it easier for the child to reach and thumb the spool, while maintaining a firm grip on the rod.
A number of the micro baitcast reels - including Shimano's Calcutta CT50 (7.4 ounces), Pinnacle's Vision Limited VST5 (7.9 ounces) and Vision VS5 (7.9 ounces), and Mitchell's SpiderMite SM300 (6.3 ounces) - weigh less than 8 ounces. The lighter reels let anglers fish longer without fatiguing their shoulders or joints. Strenuous techniques - rippin' stickbaits or twitchin' jerkbaits - are ideal applications for the light micro baitcasters.