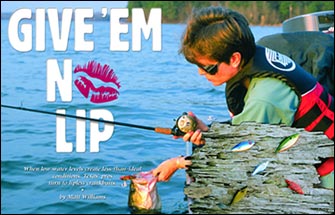 When low water levels create less-than-ideal conditions,
Texas' pros turn to lipless crankbaits.
By Matt Williams
They've been referred to as "idiot baits" and "monkey lures." But make no mistake about it; when bass get on a strong lipless crankbait bite, you'd best have one tied on or run the risk of being made to look like a fool at the weigh-in line.
Bud Pruitt isn't anybody's fool, but the 34-year-old bass pro from Houston has certainly made his tournament competition look silly on more than one occasion. The story he told me about his experience with lipless crankbaits should make the folks at Bill Lewis Lures proud, and sell them a ton of Rat-L-Traps.
It all started in February 1996 on Sam Rayburn Reservoir. One of the worst droughts in Texas history had sucked the massive impoundment to 9 feet below normal pool - hardly the conditions 300-plus anglers have come to expect when they roll into Jasper each spring to compete in the B.A.S.S. Central Division Invitational, but reality just the same.
Pruitt recalls the tournament well. And he should. His 2-day, 10-fish bag weighing 53 pounds, 3 ounces earned him his second B.A.S.S. championship crown and $35,000 to boot.
"The way everything worked out was fine - I just wish we would've gotten to fish the full three days," recalls Pruitt. "The second day was canceled due to high wind. I feel certain I was on the fish to set a new 3-day record weight."
Pruitt's winning pattern involved feathering a 1/2-ounce Rat-L-Trap through scattered hydrilla beds in 2 to 5 feet of water. But not just any ol' color pattern of lure would do. It had to be the patented RTSY5 - with a black back, chartreuse sides and orange belly - to appeal to the fat ladies.
"Crawfish reds and chromes have been the hot springtime colors on Rayburn for years," notes Pruitt. "So that's what I started with on the first day of practice. I was catching fish, but nothing exceptional. Then I decided to experiment with some different color patterns. I tied on the chartreuse bait and immediately started catching giants. I probably had 35 or 40 pounds on the first day of practice."
Day two of practice probably would have brought identical results had the crafty pro not removed the treble hooks from his lure to avoid giving the bass premature sore-mouth.
"I know I had several big fish on that day as well," says Pruitt. "They'd latch on and just mow through the grass. I could hardly get some of them to let go. I went into that tournament with a huge amount of confidence. I knew I was on to something that nobody else was doing."
Nobody except Pruitt's first day tournament partner, Homer Humphreys, that is. Pruitt loaned Humphreys a chartreuse shad pattern lipless crank to fish with and the Minden, La., pro stroked 'em. He weighed in a 27-pound bag compared to Pruitt's 22-pound limit.
High winds and foul weather blew in later that night and resulted in the cancellation of Day Two. But Day Three was a different story. Pruitt went back to his fish and busted a 31-pound bag that provided a near 3-pound margin between him and second-place finisher Rick Clunn.
Pruitt was articulate during the weigh-in ceremony as he revealed all sorts of valuable information as to how and where he caught his fish. But when it came time to describe the winning lure, he just said Rat-L-Trap and left it at that.
He later posed for post-tournament photos with a 1/2-ounce lipless crankbait dangling from a lunker's mouth. But it wasn't his magical chartreuse/shad bait. This one was purple.
"I never said that was the bait I caught them on, but everyone assumed that's what I caught them on when they saw those pictures around the country," admits Pruitt. "I know that's true because I saw a lot of guys throwing them in tournaments after that."
Deceitful? Not really. Seasoned tournament pros rarely divulge all of their secrets, particularly when they're not getting paid for it. Pruitt was certain he had something special in the perch-looking paint job, so he swore everyone he told about it to secrecy.
Shift to February 2000. Yet another lingering drought had done a number on Sam Rayburn, this time leaving tournament pros with water levels 10-1/2 feet below normal to deal with.
But Pruitt wasn't complaining. Lake conditions were nearly identical to 1996, so he dusted off ol' faithful and applied what he'd learned 4 years earlier.
The results were a 3-day, 15-fish bag weighing a hefty 54 pounds, 12 ounces and a $43,000 payday. Pruitt's third career title was highlighted by the 10-pound, 3-ounce lunker he caught on Day Two and haunted by the 8- and 6-pounders that spit the lure at the boat.
"I should have closed the door on that tournament on the second day," he says. "I thought I had really messed up when I lost those fish."
Pruitt's good nature also could have cost him. The Bass Cat pro gave his first-day partner, Kenyon Hill of Norman, Okla., one of the chartreuse/shad baits. Hill lost several big fish on Day One, but still managed a 46-pound, 4-ounce bag over three days. He finished fifth.
"He gave me a run for the money using the bait I gave him," Pruitt says.
Once again, he found himself in the spotlight as he stood center stage at Twin Dikes before a crowd of 4,000, all of them eager to hear how he had corralled his winning bag. This time, however, the personable pro felt compelled to spill the beans.
"I was still somewhat reluctant to give up my edge," he admits, "but I felt like I owed it to the fishermen to come clean this time and tell them about the color I was throwing. I know it made the difference in the quality of bites I got."
If that's not evidence enough to start a chartreuse shad color craze, perhaps what happened two weeks later at the K-Mart B.A.S.S. Top 150 tournament on Lake Seminole will. Pruitt finished third in that event and cashed in on a $28,000 payday.
Conditions at the Georgia impoundment were remarkably similar to those Pruitt had just left behind in Texas, the most obvious being low water, submerged grass and a ton of healthy bass with spawning on their minds.
His strategy? Here's a hint. It rattles, rips through grass and resembles a bream in color.
"There's something about that color pattern and the vibration in a lipless crankbait that drives big pre-spawn bass in grass lakes nuts," says Pruitt. "It was definitely my ace in the hole."