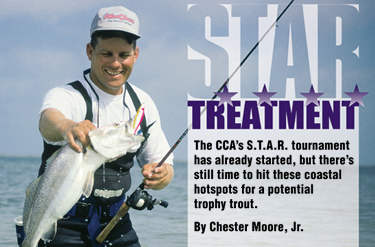 By Chester Moore, Jr.
The wrecked shrimp boats in the shallow Port O'Connor surf
can hold potential S.T.A.R. tourney winners.
Some of the biggest summertime specks can be found
in the shell reefs of the San Antonio, Aransas and Copano bay systems.
"The Rocks" in Baffin Bay act as fish magnets
to Baffin's big speckled trout.
The Land Cut at the Laguna Madre is especially good
when the tide is low and the sides are dry.
The Mexiquita Flats in the South Bay are really productive
in the fall and are famous for large catches of large trout.
Speckled trout weighing 8 pounds or more would be considered a valuable fish by any coastal angler worth his salt. Such large specimens are not only good sportfish, but they're intense, effective predators as well. Anyone who has ever had one of these beasts of the bay "blow up" on their topwater plug can attest to that. These fish mean business when it comes time to ring the dinner bell.
On May 29, many coastal anglers meant business when searching for speckled trout. That's when the Coastal Conservation Association's summer-long State of Texas Angler's Rodeo (S.T.A.R.) tournament began, giving anglers serious incentive to catch a trout weighing 8 pounds or more to qualify for competition. The winning fish in the three divisions (Upper, Lower and Middle coasts) will win a custom boat, motor and trailer package.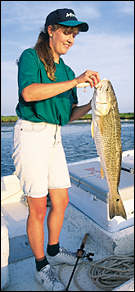 Trying to encounter such large trout in the summertime can sometimes be like trying to find a needle in a haystack, but in this case the end is well worth the means.
The Port O'Connor surf
Making a turn out of Pass Cavallo and running toward the wrecked shrimp boats in the shallow surf, an angler can find some of the most productive speckled trout waters in the state. Do potential S.T.A.R. tourney winners lurk here? You bet.
When light southeast winds blow here during the summer, the trophy trout potential can be downright scary, and it all has to do with the wrecked boats. The only structure on most beaches is sand, but these shrimp boat wrecks provide shelter for baitfish and give lunker trout a spot in which to ambush them.
Live croaker fished around the wrecks can be extremely productive as can free-lining a pinfish or finger mullet.
Capt. Cody Adams (512-872-2255) says he likes to fish these wrecks with a 51M MirrOlure or even a sinker like the 52 series.
"MirrOlures can pull lots of big trout out from around those wrecks," he says, "and in the summer there are some big fish to be found there."
Topwaters like MirrOlure's "Top Dog" or the Saltwater Series "Super Spook" can also be highly productive. Last July a friend of mine from Dallas caught the biggest trout of his life, an 8-1/2-pounder, while fishing a red and white Super Spook in a few inches of water on top of one of the wrecks.
A word of caution for first-timers to this area: It's loaded with sharks. During summer large blacktip and bull sharks haunt these beaches, so be especially careful when dragging a stringer of fish behind you. A potential S.T.A.R. winning fish could be reduced to a head and gills.
Oyster Reefs at Copano/San Antonio Bay
During the heat of summer, some of the biggest trout in the San Antonio, Aransas and Copano bay systems can be found around the shell reefs.
The general rule in this neck of the woods is that while trout become more abundant during summer, the average size goes down. That shouldn't discourage anglers looking for a S.T.A.R. qualifier, though. This area always seems to give up a number of head-turners throughout even the hottest days of the year.
Capt. Tommy Ramzinsky (512-729-4493) says that Copano Reef, Lap Reef Bank, Copano Bank Reef and "anything along the western shoreline" can be good areas for waders to target big trout.
"Those areas are pretty vast, but they really provide very little actual structure to fish. Don't go there thinking you can just fish anywhere and find fish," he stresses. "The absolute key is to locate pods of baitfish. You can idle the boat down from the shore and look for popping slicks and nervous bait, but you usually have to get out and wade to get them. They can be pretty spooky."
Ramzinsky says most of his customers insist on live croaker fishing because of its undeniable effectiveness for catching big trout, but adds that later in the summer lure fishing can catch just as many fish. And as summer wears on, he says, the big trout seem to move toward sandy banks.
"Working MirrOlures or topwaters along the sandy shorelines can be a killer, especially in the mornings. The fish move up shallow to feed in 2 or 3 feet of water at night and then back off a little deeper during the day. It's important to work the drop-offs and look for concentrations of bait, he advises. "Without the bait, you have nothing. With it you might just find yourself battling a big trout."