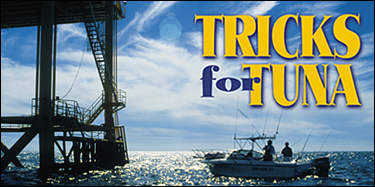 Texas offshore operators are working hard to explore and capitalize on tuna -- the cold-weather alternative to Gulf red snapper.
By Chester Moore, Jr.
The announcement that red snapper fishing in federal waters of the Gulf of Mexico would be prohibited until January 1, 2000 dealt a significant blow to the Texas offshore fishing community.
In a way, the decision to open the season in January was a relief because Gulf of Mexico Fisheries Management Council officials originally wanted to extend the closure until March of 2000. But still, four months with no snapper means tough business for offshore anglers of all kinds. To charter captains and party boat operators the closure means lost revenue for an entire third of the year.
For private boat skippers, the closure means that the staple of offshore trips is no longer available. Snapper are without a doubt the meat and potatoes of offshore fishing. Ling, king mackerel, dolphin and other pelagic species head to other regions of the Gulf during winter months, so to many anglers there are very few reasons to even bother heading offshore while the ban is in effect.
There is, however, an alternative.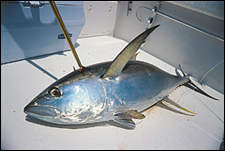 Tuna.
Many coastal anglers don't realize it, but deep waters of the Gulf of Mexico harbor good numbers of blackfin and yellowfin tuna. And while these fish inhabit areas that are generally out of reach of the mosquito fleet, there are nonetheless ways for everyone to get into some serious tuna fishing action.
"You might think that we'd be shut down because red snapper are such an important part of our catch," says Ed Schroeder, owner of Galveston Party Boats (409-763-5423), "but we're still operating. And we'll be targeting other species besides red snapper -- namely, blackfin tuna. There are lots of tuna at some of the distant rigs and structure offshore, and over the last couple of years we have really learned a lot about fishing for them. If we want to stay in business," Schroeder continues, "we've got to keep fishing. And to keep customers, we've got to put them on fish. So we're going to target the tuna, and some grouper as well."
Schroeder says his boats will be making 2-day trips from 80 to 100 miles off of Galveston to seek these powerful deep-water fish.
"This is a little bit different than snapper fishing," he says. "You're not necessarily going to be hooked up with your targeted fish all day. The tuna often bite in a frenzy-like state. When they're feeding heavy, everyone is catching them and it's a lot of fun. During the down-time we're trying to get grouper and a few other fish."
I have a friend who has made several tuna trips with Schroeder, and he says the fishing action is absolutely out of this world. He emphasizes that not as many overall fish will be caught as on a snapper trip, but that the size and quality of the fish caught more than make up for it.
"Another advantage," Schroeder admits, "is that we're going two days so we can keep two limits of fish. That doesn't matter with the tuna, but for the grouper and a few other species we catch it does make a difference."
Joyce Reynolds of Fisherman's Wharf (1-800-588-4906) in Port Aransas says they're also pointing their party boat trips toward tuna.
"We're fortunate that we have fairly close access to deep water where grouper and tuna can be caught in large numbers," she says. "We're catching blackfins and warsaw grouper on our 11-hour trips, and we're able to make some tuna runs for anglers who have a tight schedule."
Anglers experienced at snapper fishing on party boats might question just how many tuna will be caught on these trips. Snapper are easily the most prevalent species caught on party boat trips, and some anglers might question there being enough tuna out there to warrant spending their hard-earned money on a specialized trip of this sort.
"We'll be fishing some of the same places," Reynolds admits, "but we have some different spots that will hold more tuna. Some of the same tactics may be employed as in snapper fishing, but we're forced to put our anglers on fish besides red snapper. Now it's our business to do that."
Capt. Paul Stanton of Aqua Safari Charters (1-800-759-4547) hosts overnight tuna trips on his 42-foot twin diesel boat, the Island Girl. He says that since the initial snapper closure in 1997, tuna have garnered a sort of "cult following" in Texas.
"There were lots of people out there who really loved offshore fishing," he says, "and when the snapper closure happened they weren't just going to stop fishing. They heard about opportunities for tuna and they went for it. Now a lot of them can't get enough of tuna fishing."