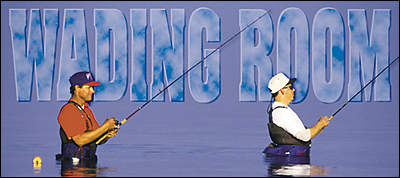 Compared with the rest of the Texas coast - particularly down south - Galveston Bay wade fishermen have to adapt in order to succeed.
Here, in a nutshell, is exactly how to do it.
By Pat Murray
Imagine a seemingly endless flat carpeted in flowing grass. The periodic sand spot is speckled with spats of live oyster shell. Pods of finger mullet and piggy perch push out of the grass with your every step. The school of reds that you have been tracking appears surreal, suspended motionless in air-clear water.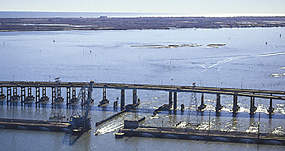 Water exchange - here, from West Galveston Bay on east toward Pelican Island through the pilings of the Galveston Causeway - plays a huge role in the overall saltwater fishing scenario. Substantial tidal flows affect not only the feeding patterns of resident gamefish, but also the rate at which bay-to-gulf color changes occur. (Special thanks to Cliff Hyde Flying service in LaPorte for allowing Mary and Larry Bozka to capture this aerial view.)

You arc a cast - and then suddenly wake up only to realize that you were dreaming. And guess what? You were not dreaming of Galveston Bay.

Take that immense flat and cut it in half. Remove any semblance of grass or any floor vegetation and adjust the water color to a solid murky green. Now, you're in Galveston Bay.

The Galveston Bay Complex supports some outstanding wade fishing opportunities. However, it's typified by steep mud and sand shorelines, limited structure, concentrated schools of fish and substantial fishing pressure. Still, even with these impediments, there is nonetheless good potential for trophy-class fish and limits of trout and redfish for those who are willing to go the extra mile and pay particular attention to the details.

Pick your spots

Often, the general concept of wade fishing consists of hopping out of the boat, picking a comfortable depth and disappearing into the distance on an Olympic-class wade. Although this does cover water and can produce fish, it makes your starting point almost arbitrary.

Pick a spot for a reason. Find the basic necessities to build your confidence. Establish some structure, locate bait, and - if you're lucky - a slick or two. Then, thoroughly fish the area.

There are times when the marathon wade will find schools of fish. But, there are equally times when you'll walk through the school that you intended to fish.

When you catch a fish, plant your feet. The expression "school of fish" exists for a reason. If you catch a fish or get a strike, you may be on a sizable school. Even if you only get one bite, you may be able to stick it out and discover what it takes to activate the bite.

Cover the Water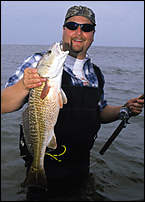 He worked long and hard to get 'em, but when the day was done, visiting fisherman Kyle Ward of Wisconsin ended up with a solid 3-fish limit of stout, keeper reds from Galveston Bay. Of all the angling virtues, persistence arguably ranks foremost.

It is absolutely critical to thoroughly cover the area you have selected. Move in and out on the shoreline. This "zig-zag" technique allows you to determine the exact depth of the fish and to feel the subtleties of the bay bottom. By changing depths, you may find the taper of shell to mud or sand to mud and - as a result - discover the greatest concentration of fish available in your selected locale.

Spread Out

Guides have a great advantage in finding fish on a shoreline by efficiently utilizing all the members of their often sizable party. If you are fishing with friends, try putting one guy inside, one out deep and one or more at mid-range. With several anglers at different depths, they can each employ different baits to cover the entire gambit. Once the definitive pattern is discovered, you can crawl into your neighbor's pocket and concentrate on the school.

Put in the Hours

Galveston Bay is notorious for the incredible amount of fishing pressure it receives from the nearby Houston populace. As the old saying goes, "If you can't beat 'em, join 'em." Don't let the number of trailers at the ramp psyche you out. Wait out the crowd.

Often, the weekend angler will burn himself out in the morning and never experience the afternoon bite. If you have the stamina, you can find yourself wading an abandoned shoreline after a very busy day.

Equally, do not be afraid to walk in another wader's footsteps. Just because someone else finished a wade in a given area and did not catch anything doesn't mean that there are no fish there. That angler may have had absolutely no idea what he was doing. If an area looks good, fish it.

If the fundamental signs are there, it's worth investing some time.