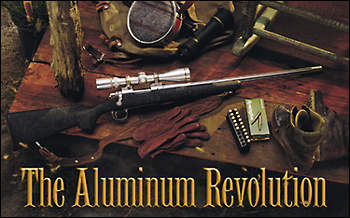 This lightweight metal has found its way
into a surprising number of firearms applications -
and now it's responsible for a new class
of very accurate hunting rifles.
By W.T. Woodard
Page 2
Aluminum Elsewhere
Like in the expensive Trans Pecos, aluminum seems to be a component of rifles that really shoot well. For instance, the $1,600 Blaser 93, a gun imported by Sigarms of Exeter, N.H., has an aluminum frame much like the Trans Pecos' design. We've shot that gun in .308, and like the Briley product, it can produce legitimate sub-MOA groups with factory ammo.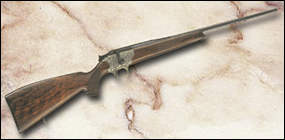 Also, if you look closely, aluminum is showing up in other less expensive, but still very accurate, guns. In composite stocks, for example, an integral metal bedding block under the action accomplishes the same end as the aluminum frames in the Briley and Blaser production guns.
To see what we mean, you need look no further than a class of affordable heavy-barreled bolt actions, such as the $705 Remington Model 700VS Varmint Synthetic and Winchester's Model 70 Synthetic Heavy Varmint, $764, to find more sub-inch guns. Recent testing we conducted with these models in .223 Remington found they shot half-inch 100-yard five-shot average groups with at least one ammo brand.
Not surprisingly, the Winchester Model 70 Synthetic Heavy Varmint included pillar bedding and a full-length aluminum block, machine-cut to fit the receiver, and built into the composite stock. Winchester calls this the Pillar Plus Accu Block bedding system, and it includes glass bedding around the front and rear stock screw area of the receiver.
A satin stainless-steel finish on the gun's 26-inch free-floated barrel contrasted nicely with the blued receiver. A 0.87-inch-thick muzzle diameter accounted for much of the gun's 10-pound, 4-ounce weight. At the range, our best five-shot group average (five total groups) with this gun came with PMC's 55-grain hollow-point boattail bullet: 0.38 inches.
Like the Winchester Model 70, the Remington 700VS Varmint Synthetic incorporates a machined one-piece aluminum frame, milled to fit the bottom of the receiver. It resides in a dark-textured DuPont Kevlar composite stock.
This metal-to-metal design is strengthened with pillar-style action screws.
The 700VS averaged 0.56-inch-groups across four test ammunitions -- remarkable considering the variation in brands and bullet styles. Our best five-shot group average (0.43 inches over five groups) came with the Hornady V-Max 55-grain bullet.
Also, Beretta's Mato centerfire rifle line incorporates CNC-machined aluminum blocks. The blocks are built into the gun's fiberglass/ Kevlar/carbon-fiber stock, improving rigidity and giving added support to the action.
Viva La Revolución
It wasn't too many years ago that aluminum was a metal used solely for low-priced products. But if you think about it, some of the most popular guns currently being made today, such as Ruger's $150 10/22 rimfire rifle -- which has taken many a squirrel and rabbit -- use the metal to save weight and costs.
Now that this lightweight material is showing up in guns of every price and performance range -- and is a prime component of some of the most accurate guns being built today -- it's safe to say the aluminum revolution is in full swing.