A Bird In The Brush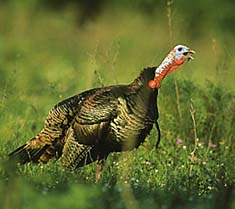 A primer to hunting the Rio Grande gobblers of South Texas

By Larry Bozka
Doug Borries cups his hands around his mouth, takes a deep breath and lets out a hoot that - if I didn't know better - would have had me looking for a screech owl in the tree limbs above us. In response, a love-struck Rio Grande turkey gobbles from what must be a quarter-mile away.
Borries hunkers down, motions for me to follow and breaks out in a slow trot toward the direction of the now-quiet bird. A light mist is falling on the 4,400-acre Brooks County ranch near Falfurrias, moistening the ground and allowing us to move without near as much leaf-crackling commotion as you'd normally expect on a late afternoon in early April.
Borries mouth-calls again; this time, no answer. A gusting wind hits us in the face; it's no doubt muting the sound. Still, Borries moves on. We end up at the base of a thick oak motte, where we settle in and wait.
"This rain has 'em messed up," Borries whispers. "Before this front came in the birds were a lot more active."
Ten minutes, and we suddenly hear an eruption of gobbles from the other side of the trees. Then, a huge rush of air as wind fills one of the big birds' wings and carries it to the top of an ancient live oak. Then another, and another. From in front of us, a half-dozen hens walk into clear view and, with bellies thrust toward us, leap into the air and head for the moss-draped trees' uppermost limbs. It's almost dark, and gobblers are still approaching from the opposite side of the motte.
"I think I know where we're going to set up tomorrow morning," Borries says with a grin.
Doug Borries, 34, is going into his ninth year as an outfitter. The Ocean Springs native has been hunting turkeys since he was an 11th grader in his home state of Mississippi. His trips to Texas began back in 1989.
"It was a paid deer hunt that I made with a couple of buddies on a ranch near Sonora," he recalls. "I went back for a spring turkey hunt, and the next thing I knew, I was guiding turkey hunters."
The soft-spoken pro has been at it ever since. And, he says, there's "no comparison" between turkey hunting in Texas and Mississippi. "The Texas experience is far superior," Borries comments. "If you can kill a turkey in Mississippi, you can probably kill a bird just about anywhere. The birds you find in Mississippi and Alabama are extremely tough to hunt. There is a lot of hunting pressure there, which is where the aspect of (Texas) private land really comes into play. What private land you find in Mississippi and Alabama is mostly small tracts, with a lot of people hunting the boundaries and putting a lot of pressure on the birds."
One other big difference between Texas Rio Grandes and the Eastern birds of the Deep South: "Easterns there tend to have a much wider range than the Rio Grande turkeys of Texas," Borries says. "Rios will roost pretty much in the same cluster of trees every night, assuming that nothing disturbs them. Easterns, on the other hand, tend to frequent different spots over a much larger area."
It's no secret to Texas turkey hunters that the past several years have been nothing exceptional. The summer drought of 1996 saw to that. "However," Borries notes, "this year we're going to benefit from a tremendous hatch in '97. The population of birds in the Sonora area has just about doubled from what it was in '96. You can expect to see lots and lots of young birds, with flocks of jakes numbering 30 to 40 birds. There are still a lot of old birds from previous years," he points out, "but unlike the last few spring seasons, we won't be primarily looking at older gobblers. Hunters this season are going to have to look a lot closer before pulling the trigger."
Having hunted turkeys in the CrossTimbers and West Texas, I immediately notice the disparity in Brush Country turkey terrain. "Hunting here has got to be a bit different," I surmise.
"It is," Borries replies. "For the most part, the South Texas countryside is flat. The birds don't have near as many river and creek bottoms to hide out in as they do in the Hill Country. They find an area that they feel safe in, and as long as it isn't busted up, they stay there.
"Plus," he adds, "what the birds consider a 'Creek bottom' may be a draw that's not actually a running creek, but instead just a 1- or 2-foot drop in the terrain. South Texas turkeys are extremely sensitive to any change in the topography, so you really have to pay attention to the make-up of the property."
Brush Country birds also tend to roost in areas that hold abundant feed. "Usually," Borries explains, "they'll roost a few hundred yards or so from the exact area in which they are feeding. I rarely see them roost directly inside of a preferred feeding area; my guess is that they're aware that predators will be holding close to these areas, hoping to ambush an unsuspecting bird. That," he adds, "is also why the birds tend to move from the roosts into the feeding areas only after the sun has been up for an hour or so."
Insects - specifically grasshoppers - constitute a large part of the turkey's diet. "I've seen areas in Texas, especially in the Hill Country, where when the grasshoppers are up on top of the ridges you can bet your last dollar that the turkeys will be up on those same ridges as well," Borries says." And they'll stay there all day."