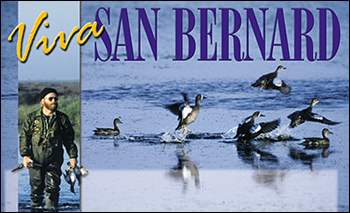 Situated near the mouth of the San Bernard River is what many consider to be the most user-friendly and productive National Wildlife Refuge of them all.
By Shannon Tompkins
Page 2
While ducks are the focus of most hunters using the areas, Schneider says that some outstanding marsh goose hunting is available at times. The Salt Bayou unit, in particular, can provide good goose hunting. The area hosts a traditional late-winter goose roost, and hunters who know how to work the wind and weather to their advantage can see some very, very good pass shooting.
Along with their ability to provide regular shots at geese, San Bernard's three main public hunting units are somewhat unusual among public areas because of their relative lack of restrictions. Normal public hunting area regulations such as "no building of permanent blinds" are in force. But along with the no-check-in, no-check-out, no-fee rules, the areas are open to all-day hunting. (Almost all other public waterfowl hunting areas along the coast have morning-only hunting.)
That all-day hunting option, Schneider notes, is something those looking to the San Bernard NWR should keep in mind. "The huge majority of our hunters hunt in the mornings," he says. "If you go out there in the afternoon, there's almost never anyone hunting.
"Hunting can be very good in the late afternoon," he adds. "If a person is looking for a quality experience with very little, if any competition, I'd suggest trying an afternoon hunt."
Quality hunting experiences are the whole focus of the San Bernard NWR's Sargent Permit Hunt area. As such, it's run much different from the other three areas.
The Sargent Permit Hunt area, covering more than 2,000 acres, includes coastal marsh and prairie and an area of marsh divided into leveed compartments holding shallow ponds and flooded flats. The area is divided into approximately 2 dozen hunting areas, all but a couple of which have a duck blind constructed over a pond. Hunting on the area is allowed only three mornings a week during duck season -- Saturday, Monday and Wednesday. Hunting also is allowed on Saturdays, during the goose-only season.
To hunt the Sargent unit, hunters must hold a reserved permit obtained by calling the refuge office.
The system works like this:
Beginning on the first Monday in October, hunters can call the refuge headquarters (409-849-6062) between 8 a.m. and 4 p.m. during weekdays for reservations at the Sargent unit. Reservations are available on a first-call, first-served basis. One hunter -- the "group leader" -- can make a reservation for a group of two to four persons who will hunt together on the unit. No group can be less than two hunters, nor more than four.
A caller can reserve only one hunt per season as "group leader." But a group of, say, four hunters who regularly go afield together can each make a reservation as "group leader," allowing the group to reserve four hunts on the area. Group leaders can request a specific hunt location if it's still available for that day.
Access to the Sargent hunt area is by walk-in or boat, with all areas reachable by foot but some much more easily accessed by boat. Some of the hunt areas are as close as a quarter-mile from parking areas. Others involve a walk of more than a mile. (The walks aren't that bad; most of it is over good trails and levees.)
Hunters without reservations also have a shot at the Sargent unit. Because some hunters with reservations fail to show on almost every hunt, staff allows stand-by hunters to take their place. And stand-by hunters can use the area as many times a season as there are stand-by positions available.
Hunters with reservations and those hoping to secure a stand-by spot must report to the Sargent Hunt Check Station -- located about 3.5 miles south of Sargent on Highway 457 -- at least 1.5 hours before shooting time on the morning of their hunt. The check station opens 2 hours before shooting time.
All persons hunting the Sargent unit are charged a $10 per-person fee.
Once checked in, hunters go to their assigned hunt location. They are the only group assigned to the area, and must stay within 100 feet of the blind location unless pursuing a downed bird.
This assigned hunting area format keeps groups of hunters from intruding on each other and creates a much better hunting experience. That experience is productive, too, as the 2.5 birds-per-hunter success rate clearly indicates.
Hunters on the Sargent area and the nearby Smith Marsh, Salt Bayou and Cedar Lakes units can expect to see the wide variety of ducks for which Texas' coastal marsh is famous. This past season, hunters on the Sargent unit (the only one where hunters are checked after their hunts) took mostly gadwall, wigeon and teal early in the season, with gadwall, wigeon, pintail and shovelers being the common birds late in the year, Schneider says.
"But hunters come in with a wide variety of species," he explains. "They take a fair number of redheads and canvasback and good numbers of scaup."
With this waterfowl season predicted to be one of the best ever -- particularly for the species most commonly encountered in that stretch of coastal Texas that includes the San Bernard NWR -- expect hunters on the refuge's public hunting areas to enjoy another outstanding year.
"The idea behind the public hunting program is to provide a range of quality recreation," Schneider says. Most of the hunters who have enjoyed the fruits of that idea would agree; San Bernard offers quality Texas hunting.
Stephen F. Austin would be proud.
For more information on San Bernard NWR's public hunting programs, contact: Brazoria National Wildlife Refuge Complex, 1212 North Velasco, Suite 200, Angleton, Texas 77515; phone 409-849-6062.