Shafts vs. Shells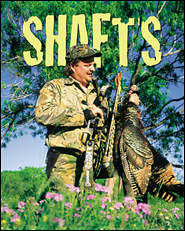 Any way you go, whether it's a 12-gauge pump or a high-tech compound bow, spring turkeys are downright dazzling birds.

By Larry Bozka
Pearsall, Texas, April 2, 1998-Opening weekend of the South Texas Rio Grande turkey season. A magical time of yellow-bloomed prickly pear, waving seas of bluebonnets and a growing sense that the season is turning a fresh new leaf. The air is clean and brisk, and life is everywhere.
Thirty-year-old Kyle Ward has been hunting with his father, Ron, as long as he can remember. Kyle is a bowhunter, one of the most avid archers I've ever met, and compound in hand he has dropped his share of game--among the lot, he says modestly, "around 15 deer, 6 of which were bucks." Last November he arrowed a heavy-racked 12-pointer (a "6-by-6," as it's known back home in Wisconsin). But like his dad, a retired oral surgeon who now spends every possible day afield, he had never killed a turkey.
Me? I've shot a few. But not this time.
"I'm gonna be a guide," I told my buddies prior to the trip. Every time I said it I couldn't help but laugh.
Neither could they.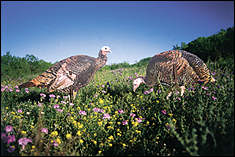 Wild turkeys, you see, are extremely intelligent birds. They have the eyesight of an eagle, can discern colors of every imaginable hue, and heaven help you if you so much as twitch when a big tom is in sight. You move, he's gone.
It's long been said that if wild turkeys had a highly-developed sense of smell, we'd never kill one. I believe it.
I'd spent weeks practicing on a Knight & Hale Model 111 "Ole Reliable" Double Mouth Diaphragm call ("Great for the beginner, as well as the advanced caller," the packaging read). The best time to practice, I discovered, was while driving the 55 miles of Beltway 8 between my home in Seabrook and the Texas Fish & Game office off Hwy. 290 in northwest Houston. In retrospect, I'm surprised some of the toll booth ladies didn't dial 911 to report some loony in a green Durango making obscene noises.
Anyway, I got better and the season drew closer. Next thing I knew Ron, Kyle and I were opening the gate to Bill and Bobbie Ingram's Rock House Ranch in Frio County. We were invited guests; no commercial turkey hunting is done here. Which, given my degree of expertise at turkey calling, sounded absolutely wonderful. No wild turkey is stupid, but these birds were at least relatively uneducated.
We arrived a little after lunchtime, chowed down some sandwiches with our hosts Macky McIntyre and ranch manager/biologist Ross Eckhardt and hit the field. A small, narrow creek intersected the road, fringed by a thick curtain of mesquite and oak trees that, according to Eckhardt, were serving as roosts for several groups of birds.
Ron and I headed upstream; McIntyre and Kyle went the opposite way. I slammed the truck door-a tactic that, like blowing a screech owl "hooter" or a woodpecker call-normally gets 'em gobbling. Nothing but silence. So we slowly walked toward the rising sun, looking closely for any sign of birds. There were, however, no tracks. And still, no sounds. I blew the "hooter" again. Again, no response.
We set up on the western side of a large, freshly-plowed field. I planted a pair of dekes-an Outlaw jake-and-hen combo-while Ron climbed up a tripod stand immediately above the brushpile I'd hunkered into. It was unusually hot, and the mosquitoes were raging. After about 45 minutes of calling, waiting and sweating, I looked up toward Ron.
"What do you think?" I asked.
"Pretty slow," he answered.
"Let's move. We're sure not doing any good here."
I packed the decoys into the mesh backpack. Ron climbed down from the tripod and we edged closer to the hardwood creekbottom. "You thought the mosquitoes were bad back there?" I asked. Ward wiped a bit of mosquito blood-make that his blood-from his sweat-beaded face and nodded his head.
Ron Ward is a personable fellow, but when he hits the field he turns into a focused hunter. The non-responsive birds, coupled with miserably hot weather, the relentless mosquitoes and a wannabe "guide" who had never before called in a turkey, had no doubt made him feel somewhat pessimistic about the whole deal.
To be honest, so did I. So, I shut up and followed Ward's hand signal to move farther uphill, where we slowed down the pace and stalked through the senderos between the dense thickets of mesquite and live oak. "I was pretty much convinced that the birds-assuming they were even there-were less than enthusiastic about your calling," he later admitted. That's one of the things I truly appreciate about Ron Ward. The man says what's on his mind, and rookie that I am, I was certainly in no position to disagree.
We turned a corner, headed back to the west and-just as we were about to round a treeline bend, simultaneously spotted several gobblers ambling about around 200 yards away in the fading evening light on the same side of the brushline we were skirting. In unison, we stopped in our tracks.
"I remember it vividly," Ward said that night around the campfire. "I got in front of you, and moved back in the brush. Positioned like that, neither one of us could see a danged thing."
I remembered it well, too. There was no way I could move out into the open and set the decoys in place without being spotted, so I stuck them in the ground just a few yards from the edge and backed into the underbrush. Moments later, I heard clucking.
"You started out with the box call, clucking a 'putting' kind of noise, and I thought to myself: What is he doing? I'd never heard such a thing. You kept telling me that you could hear the birds, but I couldn't hear a thing, and I sure couldn't see anything. I didn't have a clue what was going on."
I didn't, either. No matter how I worked that box call, the tom wouldn't talk to me. So, I popped "Ole Reliable" into my mouth, made a feeble attempt at a "kee-kee run" and the bird sounded off like a noontime factory alarm. A nanosecond later, I was shaking uncontrollably.
It was totally unnerving. I couldn't see anything, either, but at least Ron was ahead, between me and the incoming gobbler with the decoys about 10 yards to my right. I hoped-make that prayed-that the bird would spot the decoys and move on in.
"I still couldn't see him," Ward continued, "but it was obvious that he was getting closer. He couldn't have been much more than 50 yards away at that point. It sent a shiver down my spine. You'd tell me 'I hear something;' you're making this crazy noise behind me, and I have no idea what the hell it is. When the bird gobbled back at you, and did it so loudly, I finally realized that something was going on. I can literally still hear my heart pounding. It was like, 'We're really doing this!' And it was exhilarating.