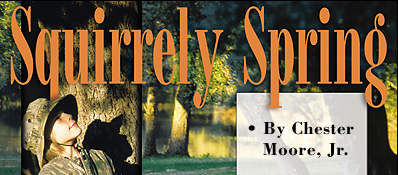 Although participation has dwindled in recent years, the East Texas spring squirrel season remains a super-productive option for Pineywoods hunters.
For many hunters, it all began with squirrels.
A glimpse of a "cat squirrel" spiraling up a big river bottom oak or the erratic sound of rustling leaves followed by the crack of an acorn shell were - for a great many of us - our first encounters in the wild.
I still remember my first squirrel hunt.
It was in October of 1982 when my father took me to a relative's property located in the southern portion of Newton County. I was only 8 years old, and when I squeezed the trigger on the single-shot .410 shotgun and the big fox squirrel fell from the huge oak tree I felt as if I had conquered Mount Everest.
Squirrel and rabbit hunting is what hooked me for life on the sport of hunting. The same goes for many, many others.
With that said, most hunters consider the squirrel game of autumn - complete with falling leaves and cooling temperatures - to be the epitome of the sport. However, the fall season is not the only game in town.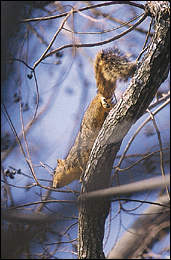 Most of East Texas' national forest areas and wildlife management areas managed by the Texas Parks & Wildlife Department offer quality spring squirrel hunting.

There is, in fact some excellent squirrel hunting to be had in the Pineywoods region. And it can be enjoyed right now. The East Texas spring squirrel season spans the entire month of May, and for hunters who enjoy uncrowded woods, now is indeed the time to pursue these bushytails.

Clayton Wolf, wildlife biologist with the Texas Parks & Wildlife Department in Jasper, says spring squirrel season has a dedicated "cult" following, but adds that it has yet to reach the level of popularity held by the fall season.

"There are some hardcore, dedicated squirrel hunters who always hunt in the spring season and shoot lots of squirrels," Wolf says, "but there are still some folks out there who we feel may not know about the season. And," he emphasizes, "they're missing out on some prime opportunities. Spring is a very good time to hunt squirrels in this region."

Wolf adds that the outlook for hunters participating in the current spring squirrel season is good. "In the last few years, we've had some of the best squirrel crops in recent memory" he confirms. "Last fall was good for hunters, and we should accordingly have plenty of carryovers for the spring season."

Habitat is the key issue with squirrel hunting. If there is adequate habitat squirrels will be there, but all squirrel habitat is not equal. And furthermore, all squirrel species are not the same.

"Obviously, most of the old-growth forests have been converted to pine," Wolf says. "But, in areas that still have hardwoods, we've seen high levels of mast production for 2 straight years and that has equaled some excellent squirrel hunting."

There are two species of squirrel in East Texas - the gray (or "cat") squirrel and the fox squirrel.

The fox squirrel has the widest range and can be found along creek and river bottoms throughout much of Texas. Ideal fox squirrel habitat in East Texas is mature mixed pine and hardwood forests.

Cat squirrels are limited to the eastern portion of Texas and can be found in abundance in mature stands of hardwoods. They tend to be early risers, so hunters working the bottoms for cat squirrels should plan on getting afield early to catch them in action.

Fox squirrels, on the other hand, tend to forage later in the mornings. And, according to Wolf, you don't necessarily have to be in prime bottomland hardwoods to get in on the action.

"In years following good mast production, even marginal habitats can produce squirrels, especially fox squirrels," he stresses. "And because these animals can build up relatively high populations over a short period of time, a small 10- to 20-acre tract can provide plenty of hunting opportunity.

"A lot of times - particularly when hunting an area where food may be in short supply - squirrels will move around enough to where it doesn't necessarily matter how much land you're hunting. If, again, you're close to good habitat."

Fortunately, there's plenty of squirrel hunting opportunity to be enjoyed throughout the region.