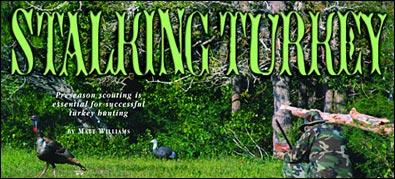 Preseason scouting is essential
for successful turkey hunting.
By Matt Williams
Page 2
Why scout?
As a rule, a mature gobbler is a homebody. He has his home range and normally won't vacate it unless he's pressured out for one reason or another.
Preseason scouting enables the hunter to pinpoint the whereabouts of a gobbler before the season opens. By nailing down the location of multiple gobblers, the hunter can dramatically increase his or her chances of finding somebody at home when it's legal to tote a shotgun.
Scouting options
Ask any avid turkey hunter and he'll be quick to tell you that scouting is hard work. Done properly, it'll result in bleary eyes and sore feet.
"You've got to get out there early and you've got to cover lots of ground," stresses Burk. "When I scout, I like to be at key spots at the key times of day so my chances of getting a bird to gobble are the greatest."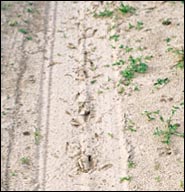 Burk says the best way to find a key area on unfamiliar land is to purchase a good topographical map. Maps of the Angelina, Sabine, Davy Crockett and Sam Houston National forests are available at the Homer Garrison Federal Building in Lufkin. The maps cost $4 each. You can order them by writing to 701 N. First, Lufkin, TX 75901. Include a check to cover the cost of each map, plus $1 for postage and shipping. The number to call is 409-639-8620.
Burk identifies likely spots by looking for creek intersections, preferably those that are located off the beaten path, away from roads and other easy access routes. That done, he'll go to the actual spot and "ground proof" it against the map to determine if it looks as good in real life as it does on the map.
"There's a simple formula to go by," explains Burk. "What you need is a fairly open upland site that makes a gradual transition into an unfragmented hardwood creek bottom. The best spots are usually on fairly open hillsides - places that'll enable you to hear a long way."
Burk will sometimes spend a full day or two pinpointing and checking suspect areas. Once he's nailed down some spots he likes, he takes his scouting to the next level.
"I like to be at those key places at least 30 minutes before daylight," says Burk. "From then to about the first hour after daylight is when the gobbler is going to be most prone to gobble."
Getting him to talk
Revved up gobblers are apt to gobble at anything - slamming doors, ambulance sirens, crow calls and owl calls. Burk has even had them shock gobble at the blast of a shotgun.
The best way to get a gobbler to give himself away early in the morning, he says, is to tempt him with some aggressive cutting or cackling, both of which simulate the sounds made by a hen that's frantically seeking company.
"You can use owl calls, crow calls, screaming peacock calls, etc., but when I'm scouting, I want to come as close to guaranteeing a response as possible," Burk explains. "If I don't get a response with an aggressive cut, he's either just not there or he's not interested."
In the event Burk's call does get hammered by a resonant blast, he won't stick around. Instead, he marks the spot on his map with an "X" and heads out to his next key area.
"That's a mistake a lot of hunters make," he explains. "They get a response and they can't resist the opportunity to mess with the bird. They end up calling the bird in and he spooks, which in turn educates him to the fact that everything that sounds like a hen isn't necessarily a hen. He's usually a whole lot tougher to call up the next time around."
Two-wheel drive
The only way a hunter can put multiple X's on his map before opening morning is to spend a lot of time scouting. In turkey hunting, that means covering lots of ground.
Many of the national forest roads are accessible to motorized vehicles. This provides hunters the luxury of being able to drive around and stop periodically to try and draw a response from the roadside woods.
While stop-and-go scouting is much easier than walking, it's not without some pitfalls. The potential problems here are twofold.
First off, there may be 10 other hunters who locate the same birds you do, and five of them, all toting shotguns, may show up at the same spot on opening morning. Second, it is very likely a roadside bird will already have heard every type of call imaginable by the time opening day rolls around.
"I don't put a whole lot of faith in roadside gobblers," notes Burk. "I'd much rather get off the beaten path and locate birds that aren't very accessible. Find a bird that's a mile or two from any well-traveled road and your chances of having him all to yourself on opening morning will be much greater."
While some forest roads are open to vehicles, others are closed to motorized traffic during the spring to protect wild turkey broods from disturbance. The only way to access many of the sandy forest trails is on foot, whereas the more developed gravel roads may be traveled on foot or by bicycle.
Either way, you'd be advised to try and get into shape beforehand. Some of the best turkey country in East Texas consists of steep, sloping ridges and long, sloping hills that'll test the stamina of a track star.
Road signs
It's always encouraging to hear birds on scouting missions. But visual signs can be reliable as well.
The most obvious sign to look for is tracks. Turkey tracks can show up anywhere along a sandy trail or road, particularly at creek crossings and other well-traveled intersections. Find tracks accompanied by strut marks (the dual marks a gobbler makes when dragging its wings) and you can rest assured there's probably a Tom somewhere in the area.
Another reliable sign is droppings. If Burk finds a concentration of droppings in a food plot, he takes it as a pretty good sign that the birds are utilizing the plot on a regular basis.
"Find a spot like that and you'd be advised to stab a decoy in the ground and wait," says Burk. "He's going to show up there sooner or later."