Whitetails: What To Expect
By Russell Tinsley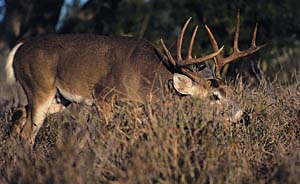 Bigger, but still challenging bucks await '97-'98 deer hunters

You never can tell about such things, but this deer season appears to be one of those good news-bad news scenarios.

For example, compared to last season, the antlers of mature bucks will be typically larger. Conditions have been right for antler development, with record rainfalls over most of the state this year. That's the plus. The negative is there will be fewer bucks that have survived longer than their first birthdays to grow those coveted antlers.

As for numbers of deer, hunters possibly will see more than those they saw visiting feeders last season. It depends on the availability of natural foods to satisfy the animals' needs and desires. At the same time, though, many of the deer will be yearlings, too young to harvest, thanks to an excellent fawn crop earlier this year.

Whatever, just about anything will be an improvement. The total number of deer taken last season was an estimated 333,800, the first time it has been below 400,000 during the last decade. The second lowest number was 421,400 in the 1994-95 season.

(The record harvest, incidentally, is 504,150 in 1987-88.)

But biologists with the Texas Parks and Wildlife Department say their statistics do not suggest any doomsday implications. The down-slide is analogous to what investors call a "correction" in the stock market—temporary, but painful at first. Be patient; there are better days ahead.

According to TPWD biologist Jerry Cooke, when conditions are satisfactory a mature whitetail doe often produces twin fawns, a reaction which allows the population to recover quickly. From all indications, there was exceptionally high fawn survival this year. And remember, half of these fawns are bucks, a plus that goes with the correction, which is in essence nature's restocking effort.

Long term, prognosis for the Texas deer herd looks bright. However, hunting this season might be tough. It depends on what part of the state you are hunting. Generally, it might be almost a repeat of last season, and that's sobering news. In the deer-rich Edwards Plateau the harvest was down 36 percent compared to the 1995-96 season; in South Texas it was 22 percent.

Rod Marburger of Kerrville, who owns a deer-management business called "Wildlife," said a drought-related die-off during 1995 and half of 1996 created a situation that might be compared to a pond with lots of big bass. When the pond goes dry, or almost so, many if not all of the bass die. Thus, when the rains come and the pond refills, you can't expect to go right back to business as usual, catching big bass. They are not there. You have to restock the body of water and start over.

It seems like such a long time ago, but from the almost rainless brutal summer of 1995 through the spring of 1996, there was not much for deer to eat. Fawn survival was low. The dry conditions, said Marburger, also resulted in a significant loss of mature deer, both does and bucks.

There's also a bit of irony involved. "The bigger and stronger the buck going into the rut, the more likely he was to die after the breeding season because he was the one using up all of his energy either breeding or running off inferior bucks," Marburger said, adding that a deer die-off in most parts of the state—particularly in places such as the Edwards Plateau, where there was a deer overpopulation over much of the region—is one reason hunting last season generally produced disappointing results. (The statewide deer census in the early fall of 1996 estimated the deer herd to be 3,385,000, down from 3,687,000 the year before.)

Again ironically, another reason was favorable range conditions. In mid-1996 there was a sudden turnabout from parched to soggy and the drought was just a memory for most folks. "In August and September the rains came." said Butch Young, TPWD whitetail program leader. "Suddenly we've got the finest forb crop that I've ever seen."

Here enters the contradiction in anticipated hunting rewards—while the change was welcome, the sudden charge of new food retarded deer movement. Most significantly, the animals did not have to rely on feeders. Hunters saw fewer deer, and many cut back on the number of deer—especially antlerless deer—that they normally took off their leases.

In many instances, Marburger noted, the reduction was not voluntary. He said spring census counts in 1996 on the places he manages showed a sharp drop in the number of deer counted compared to the fall of 1995. Many of the deer were mature bucks, as many as 43 percent on a ranch in northwestern Mason County near the Menard County line in the Hill Country. "There just weren't as many deer for hunters to see in many places," he explained.

There was other evidence, too. Entries in the Texas Big Game Awards back-slided from 1,444 in the 1995-96 season to 1,021 last season. A hunter can qualify for an award by taking his or her first big-game animal or by taking an animal that makes the qualifying score of that region. In Cotulla, director Darwin Avant of the Los Cazadores big-buck contest awards jackets to hunters entering deer scoring 160 or more Boone & Crockett Club points. Last season only 53 jackets were given out, only about half of the 102 awarded in 1992 and well below the 70 to 75 annual average.

This is not what most hunters expected when nature turned on the faucet in mid-year. When most of the traditional deer white-tailed deer range foliage got lush and green in a hurry, it appeared we would have a banner deer season. But other factors weren't taken into account, deer loss from a die-off being one. Also, the rains came too late to contribute positively to antler development (the taxidermy business went through a correction of its own), and fewer deer came to feeders, which dampened hunter interest. Frank Sinatra wouldn't have sung a song about it being a very good year.

Despite last year's downer, this season isn't expected to be a repeat. Butch Young said deer benefited from the bountiful rains and the lush habitat, especially in the spring. With a full antler-growing season, look for more quality bucks to be taken. "We're set up for a good year and I don't foresee anything (in nature) that could derail the train," Young said.

One plus on a short-term basis is that with fewer deer there is less competition for food. As a result, deer will be larger than average for body weight and general physical condition. And with fawns capable of taking care of themselves, does can be shot to make way for the next generation. A year from now there should be a great number of forkhorn bucks in the herd, deer growing their first antlers. And looking on down the line, if conditions remain favorable, in 5 or 6 years this fawn crop will produce a large number of trophy bucks—a year like 1992, perhaps, which was the best for quality bucks in modern times, as many landowners and hunters can recall. Certainly, though. don't give up on this season. All deer seasons are good. Some simply are better than others. We're spoiled, accustomed as we are to seeing many deer. Then along comes a season like the last one and we are shocked. Things are not supposed to be like this.

Another point to keep in mind is prospects can vary greatly—not only from region to region, but indeed from one ranch to the next. And you never know when and where that buck of your dreams will step into the open. There are, perhaps, still a bunch of quality bucks in the herd where you hunt, but you're not going to see them in the camphouse.

Hunting will be tougher than usual, calling for patience, discipline and imagination. You might have to alter your hunting routine if watching a feeder isn't paying off. Try something different.

That's what successful hunting is all about.